With BlizzCon now underway, Overwatch fans are rejoicing over what's to come.
It appears as though every player will be getting a goodie bag this year! Not even into the first hour of BlizzCon the company was already driving the hype-train straight into Overwatch-town, leaving the community ecstatic for what's to come.  However,  with so many new lore revelations and in-game gifts, it can be hard to keep track of it all. To help, we've created a quick list of all the upcoming features being added to the game, as well as some insight into other items and events that fans can expect to see in the near future.
---
Meet Moira, Your New Irish Talon Healer
A former Blackwatch operative and geneticist with a controversial past, lore-fanatics now have their fabled 5th Talon operative. During the opening ceremony, Overwatch creative director Jeff Kaplan unveiled her unique healing and absorption techniques, while the origin short released on Friday hinted at her role in Reaper's transformation. PC players can already get their hands on her in the PTR, while her official release date has yet to be announced. However, based on last year's character reveal for Sombra, it's possible that the new support could be released sometime between middle and late November.
---
Now Arriving at Blizzard World
Players will soon be taking an all-expense paid vacation as the game will be incorporating a new amusement park-themed map. The assault/payload hybrid map, aptly named "Blizzard World",  pays homage to the company's long-running history of gaming. The map is packed with tons of rides, attractions, and Easter eggs based on numerous Blizzard titles. Players can rejoice as this vacation destination goes live on the PTR  this week before becoming playable on all platforms by early next year.
---
A Hero in Blizzard Clothing
Overwatch fans have never hesitated to express what skins they would like to see for their favorite characters, and what BlizzCon showed us is that the developers are definitely listening. Fans can expect a whole slew of new skins, from "Barbarian Zarya" as inspired by Sonya from the Diablo series, to Ecopoint Mei, to several other Blizzard-inspired costumes that frankly we can't wait to unlock. Unfortunately, these skins won't be available in-game until early 2018. On the bright side though, these are not limited edition, so you won't have to ask Santa for extra loot boxes this year.
---
Hanzo Enters the Storm
Fans who enjoy Blizzard's MOBA game Heroes of the Storm get a bonus in their goodie-bag, as it was announced that Hanzo would be added to the game's ever-expanding roster. Based on Genji's HoTS reveal last year, suspicion is lurking that Blizzard may also be preparing a new Nexus Challenge for an unlockable Hanzo skin.  What could it be? Who knows, but what we do know is that Jeff Kaplan mentioned back in April that Hanzo had three legendary skins in the works. Coincidence? We think not! Either way, players can look forward to finding Hanzo in HoTS come 2018.
---
Team up! Overwatch League is Here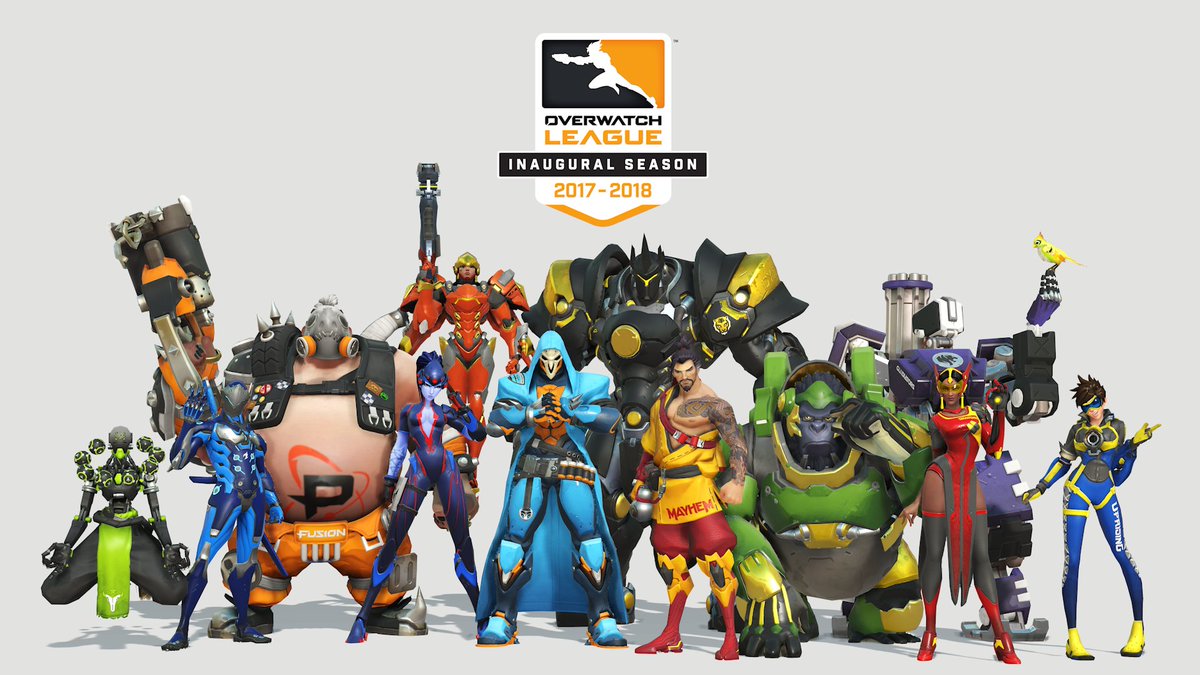 Esport lovers were thrilled as details were finalized on the upcoming Overwatch League. Separate from the World Cup, Blizzard looks to make Overwatch like any other pro-game sport, hailing regional teams based in 20 different cities, and have them compete with each other on an annual basis for top-dollar prizes. All the team skins were finally revealed during BlizzCon, as well as the introduction of the Overwatch League app, which will allow fans to keep up to date with the competition. Preseason match-ups are set to start December 6th, while the official inaugural season is set to kick off January 10th, 2018. Merchandise for the respective teams will become purchasable at the start of the preseason matches.
---
Honor, Glory, and Reinhardt, Reinhardt, Reinhardt!!!
As if there wasn't enough to fan about already! During the BlizzCon opening ceremony, viewers were saved the best for last as Reinhardt's voice actor Darin De Paul presented a new animated short starring the beloved crusader.  The animation features a glimpse into Reinhardt's backstory, in a time before he answered the call to Overwatch, and answers the question of what really happened at Eichenwalde. Afterwards, it was announced that fans would be getting a young Reinhardt skin in-game in addition to the various other skins coming next year.
---
What are you looking forward to the most? What would you like to see more of?  Do you think Moira could be the next OP healer? Let us know your thoughts in the comments below!